---
Click here to read the full article in german!
How to spotlight your music on Spotify playlists (October 2019)
October 7, 2019
"Can you put my music in the playlists at Spotify?" Is one of the most frequently asked questions to the recordJet support. In our article we explain to you why Spotify playlists are so important for musicians and how you can increase the chances that your music will take place in the most popular playlists – because Spotify playlists are more than just the mix tapes of the early 21st century. Coming into one of the big, well-known playlists like "New Music Friday" or "Release Radar" is like winning the lottery for musicians, because the additional mass of listeners can give the streaming revenue and also their own popularity a good kick.
In a nutshell: That's why it is so important for musicians to get into the Spotify playlists
Coming to one of the high-reach playlists like New Music Friday or Discover Weekly gives you a lot of new listeners for free, potentially you can reach millions of new fans directly
But being in a smaller playlist can help you get the algorithm on your side (more on that below)
Spotify serves as a yardstick in the music industry: The large playlists are observed by professionals in the music industry, such as radios, magazine bookers, managers and scouts from the labels, who are always on the hunt for the next big thing.
For the german speakers: you can read the full article here.
Content – In this article we explain:
The basics: The different types of playlists on Spotify
Playlists curated by people
Playlists created by algorithms
Mixed forms
3 ways to get your music into the Spotify playlists
Preparatory steps
This is how you draw attention to the Spotify algorithm
This is how you draw the Spotify curators' attention to you
This is how you draw the attention of curators from independent playlists
The different types of Spotify playlists
In addition to the human-curated playlists, Spotify also has those compiled by algorithms and, for a while, also mixed forms.
Playlists curated by people
On the one hand there are the playlists compiled by the Spotify Editorial Team. These are the large, high-reach playlists such as "New Music Friday", "Rap Caviar", "Pop Rising" etc. that almost every musician wants. These are always prominently placed at the top by Spotify and also partially advertised online and offline in the media.
On the other hand, there are branded and branded playlists curated by labels and distributors, such as the Digster or Filtr playlists, or "Deutschrap Radar" and "Female Music Force" from recordJet.
Finally, and this is the largest mass, the playlists of Spotify users follow, which are not specifically featured on the platform – however, these can also have a very high number of followers and can therefore be very interesting for musicians.
Playlists created by algorithms
The playlists created by algorithms are (roughly summarized) based on the listening preferences of each individual Spotify user and are individualized for each listener. In lists such as "Your Mix of the Week" or "Your Mixtape" you will find tracks similar to the songs you have already heard and subscribed playlists. In order to make it onto the automated playlist of a user with your music, it is not necessary to convince a curator of you, but to bring the algorithm to your site.
Mixed forms
Since there are countless songs that do not make it into the playlists curated by Spotify due to lack of space, some of these playlists are now partially automated – so-called "personalized editorial playlists". In addition to manually installed, curated songs, users are shown personalized songs in the lists that they see because they follow the corresponding musician. The advantage of this is, of course, that as a musician you can make it into lists that were previously unavailable. The numbers speak for themselves: the personalized editorial playlists feature up to 30% more artists and listeners discover up to 35% more new songs. A song that was found via a pEP is searched and streamed again by 80% more listeners. The average number of listeners who save a track from a pEP and listen to it again is increased by 66% (compared to normal editorial playlists).
Personalized editorial playlists are different for all Spotify users, as the personalized part is always based on individual listening habits.
3 ways to publish your music to Spotify playlists
First of all, the bad news: there are no hacks or shortcuts! As a newcomer, it is almost impossible to appear on the scene and immediately appear in one of the large Spotify playlists. Unfortunately, there is a lot of work and staying power behind it, but, and that is the good news: staying tuned can be worth it.
There are generally two ways to get into the playlists at Spotify, and these result from the types of playlists described above: on the one hand you can draw the attention of curators (for the manually populated playlists and the mixed forms) and on the other hand the algorithm on your side (for the automated playlists and the mixed forms). Both approaches require different approaches and strategies, which we will explain to you below. But first of all….
Attack on the playlists – the preparation
With the help of recordJet you have now brought your music to the stores and above all to Spotify. Now you have to make your appearance on Spotify presentable. First you should verify your account and get the little blue check mark next to your artist name.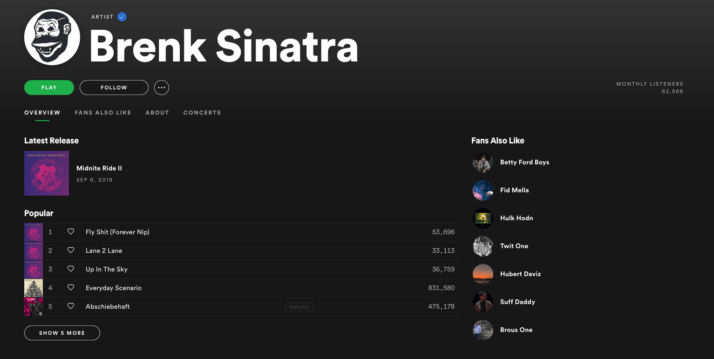 In the past, verification was a very complex process in which different requirements had to be met. In the meantime, it has gotten easier: You just sign up for Spotify for Artists and get the verification automatically – provided you have already brought your music to Spotify. If your music is not yet on Spotify, then take a look at the recordJet Business Class. You can find more information about Spotify for Artists here.
After you have verified your artist page on Spotify, the next step is to get followers because the number of followers is a hard metric that is relevant to both curators and the algorithm.
Here are a few tips on how to increase your followers on Spotify:
Ask your fans on Facebook and Instagram to follow you on Spotify
Send an email to your mailing list
Ask your fans to follow you at concerts
The link to your Spotify playlist should appear in your bio on Instagram, Twitter etc.
You should then create your own playlists and experiment with them. You have full control over these – without first having to convince anyone. Here are a few tips:
Playlists can e.g. revolve around genres, moods or activities
They should be filled with suitable artists that you currently like
Do not scatter more than 1-2 of your own songs in the mix
The Spotify algorithm prefers playlists with 20-60 tracks
Team up with other suitable bands or musicians from your area who are looking forward to more reach and ask them to include your music in their playlists
Update your playlists regularly, e.g. once a week always on the same day
As above: Share your playlists on social media, your newsletter, your bios and tell your fans about it live
Very important: ask your fans to save a song from your playlist (no matter which one) in their own lists. This draws the algorithm's attention to your lists, as it signals that there is interesting content to be found.
Let other artists know that you have featured them in your playlist (e.g. via social media). Ask the other artists to follow your playlist and promote it to their fans. This works better for small artists than for very large ones.
This is how you draw attention to the Spotify algorithm
Spotify's algorithm-based playlists such as "Your Mix of the Week", "Your Mixtape" or "Your Release Radar" have become the most important reach for unknown artists. It is therefore more important and easier to work with the algorithm than to convince human curators. The following steps can help you to spot the Spotify algorithm:
Increase the number of followers of your Spotify profile. The more followers you have, the more relevant you appear to the algorithm, the more automated playlists will eventually record your music.
Release your music in shorter intervals. The more material you bring to the platform, the more opportunities you actually have to land in automated playlists and the more opportunities you give your fans to interact with your music. For the interaction, it is more appropriate to release 10 tracks as singles in succession than one album with 10 tracks at a time.
Get your fans to actively engage with your music. All high-quality actions around a track provide bonus points for the algorithm. These include:
Stream your tracks in full length without fast-forwarding
Saving your tracks in a user playlist
Saving your tracks in the "My Music" queue of a user
Share your tracks via email or social media from the Spotify Player
When writing your songs, make sure that they are easy to grasp from the start, so that the number of those who prematurely cancel your track remains as small as possible. Reason: If a listener cancels your track early and then skips to the next song, this is very bad for you, because Spotify then assumes that your song is bad material because it does not immediately impress listeners.
The total number of your streams is relatively uninteresting for the algorithm, since this number can be manipulated using technical means. So this is not a metric to focus on as it does not help you. The stream / interaction rate is much more important, i.e. in relation to all the streams you have, how many valuable interactions (see above) do your songs experience? If your music is heard a lot but is never stored in any playlists or you have no followers, this will not convince you of the algorithm.
At this point, a small but very important warning: it is not a good idea to try to push the total number of your streams up by illegal means. The streaming services now have sophisticated tools to detect streaming fraud and are cracking down on it. Tracks and releases that give rise to suspicion of fraud are usually irrevocably banned from the platform and may not be reinstated. In some cases, the entire catalog of an artist, including older and future releases, is blacklisted. Payola (that means paying a company money to get a Spotify playlist) does not work either, because Spotify says it does not accept money for influencing playlists: "If anyone offers you pay for play to get on a Spotify playlist , it's a scam ". So: If someone promises you for money to put your music on one of the Spotify Editorial playlists, it is clearly fraud. Hands off!
This is how you draw the attention of the curators of the Spotify playlists
With your Spotify for Artists account it has been possible for a while to pitch unpublished music directly to Spotify. You can use this to make the curators of the large and small Spotify internal playlists aware of your music. But be careful – around 40,000 tracks are uploaded to Spotify every day and (according to Spotify) 20,000 tracks are pitched. Because of the sheer mass, the editorial team cannot consider every pitched track. However, according to Spotify, your pitched tracks will automatically appear on your followers' release radar playlist.
That's how it's done:
Pit your music at least (!) 7 days before the release date, but ideally a few weeks beforehand. To do this, your music must be in the system at Spotify, but must not yet be published. So please note that you upload your music to recordJet at an early stage – ideally as early as you can, so that any queries or correction loops by our quality crew do not mess up your planning. You have it in your hand.
Go to the "Music> Upcoming" area in your Spotify for Artists account. Select "Select a song" and choose a track – the one you think is most suitable.
Choose the correct genre and up to three subgenres to give editors exactly what style your song is
Optionally, you can select up to 3 music cultures, e.g. Buddhist, African, Latin and others
The moods are also optional, e.g. Chill, romantic, sexy and others
Mandatory information: Language of the release (up to 3)
Optional: The instruments used, e.g. Banjo, accordion, piano etc.
At the end, you indicate whether the track is a cover version, whether it is instrumental and how the track was recorded.
On the next page, enter the city with which you identify yourself and your music the most. This can e.g. Berlin or New York, although you may live somewhere else. If you think that you are doing "Berlin Sound" or "New York Sound", please enter it in the same way.
Finally, enter the story behind the song and click on "Review" and "Submit".
After that, regularly check the Playlists tab in Spotify for Artists. If your music is featured in a playlist, you will find a notification and detailed statistics there.
When pitching, choosing the right tags helps the editors to recognize whether your song fits well into one of the playlists and, if so, which. At the same time, this information also helps the algorithm to know which of the automated playlists your track would fit into. So give as much information as you can and make sure that the information is correct and fits your music well.
This is how you draw the attention of the curators of independent playlists (for advanced users with staying power)
The very last tip is a bit more advanced, as it not only requires tact and communication skills, but also a little courage and staying power: You try to get in direct contact with the curators of large independent playlists and to inspire them with your music. Of course, your Spotify profile should also be kept clean, you should have followers and your music should be of good quality so that not only the first, but also the second and third impressions fit.
The following tips can help you:
Invest time to find the right playlists for your music. Google and Spotify will help you with this. Which playlists feature artists that resemble you and music that resembles yours?
Follow these playlists – anything else would be really rude
Contact the curators and build a "relationship". You can e.g. the curators can be found on Facebook, Twitter or Instagram or in part on Xing and LinkedIn or their music blogs, if available. Be polite and don't fall into the house with the door.
If you have established friendly contact, then introduce your music – the one song that would be perfect for the corresponding playlist.
If the person doesn't want to or can't record your song this time, don't be angry or snippy. Maybe the next song will make it. Stay on the ball but stay relaxed. Maintain friendly contact and just try again on your next release.
A less direct but super simple way to draw the attention of independent curators to your music is the Playlist Exchange of the Spotify Community. This is a hub within the Spotify community where you can post your own playlist and find out about other cool playlists.